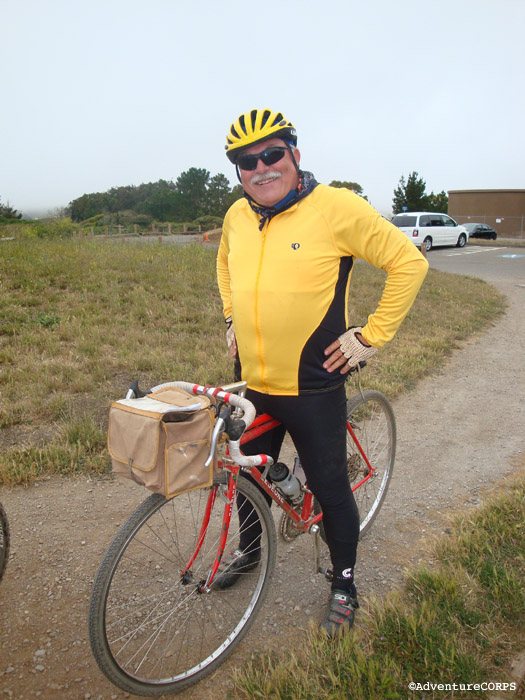 I wasn't able to make this ride but here is a great ride report from Bob:
Since someone has mentioned my bike I thought I would relate a little of my Saturday adventure.
We met up at Mt Tam Bikes at 8AM for our staggered starts at 8:30 AM. The route would take us up Mt Tamalpias on Rail Road Grade then over to the coast on a ridge top trail before dropping down to a vista point over looking a nice section of coast line at Muir Beach. From there we would ride thru the Green Gulch Farms (Zen Center) then up a trail to the coast road which would take us to the Marin Headlands overlooking the Golden Gate. We would return over another set of hills back into Mill Valley. The ride was laid out 90% Fire road, Dirt track and as it turned out Goat Path.
Off we went thru the unsuspecting quiet streets of Mill Valley towards the Rail Road Grade (named for, you guessed it , a long defunct Tourist train which had once run up to the top of the mountain) Steep paved streets with the last being named 'Summit' (they lied as the top was still almost 2000 feet up)
The grade was not as steep as the approaching streets. The surface was packed dirt with some rock and gravel. Technical in just a few spots where the roadway was chipped out of the underlying rock.. After a fairly long climb we arrived at the West Point Inn, this was the terminus of the old train line and features a panoramic view of the bay, the City and the ocean. Tourists would return via the 'Gravity Train' basically open cars without power that would coast back down the mountain (this must have been quite something in the horse and buggy pre liability insurance days)
We hung out at the top waiting for stragglers though I would thought everyone had certainly passed me on the way up (including a lady pushing a baby stroller and a Sailor with a peg leg ...there is a theme emerging here)
Off we went towards the Pan Toll Ranger Station , the road was a nice down hill run over dirt and gravel until we reached the paved section that took us to Pan Toll.
We stopped to top up our water bottles (I filled an extra just in case) Chris Kostman walked by me and looking at my rickety front bag mount says something about the trail ahead being 'Knarley'......
The trail started out nicely paved and then decended into broken pavement, gravel, dirt and mud , the view from up here is stunning if you have time to look. I was to busy dodging from side to side trying to avoid holes, rocks , water, errant hikers and fellow bikers. In spots the trail returned to the chipped from bedrock format which made steering difficult. Having ridden the 'Strada Bianchi' in Italy the lesson you learn is your wheels must be in contact with the ground for the brakes to work. At this point I broke a key rule and tried to stop after sliding off the saddle , I performed a forward cartwheel and found myself sitting on the ground. I looked around and there was no one holding up any score cards (wheres the Wide World of Sports when you need them?)
Nothing was damaged except for my dignity. Off we went again til we paused before crossing Route 1 and heading towards the Overlook. Our wheels were on pavement for a short stretch as we rode up to the Overlook (this was once part of the coastal Defenses around San Francisco as the cement bunkers show.) Though it is cloudy there is still a nice coastal view.
Again we are on our bikes ,this time heading south towards Green Gulch , a produce farm belonging to the Zen Center. We make a quick turn at the Pelican Inn and we are in the Vegetable fields heading down a path towards a gate at the rear.
Single track is a narrow trail that will only accommodate single file riding , this single track is heavily worn by Horse traffic as well as bikes so the path is now a trench and a trench that is rapidly becoming very steep. The turns are more switch back than curve and it is very difficult to ride around them.
I put a foot down and cannot get moving again. Pushing the bike forward I look for a less steep spot to remount. Remounting I peddle ahead again coming to a sharp switchback, again putting a foot down and pushing the bike ahead. Looking up I see the riders ahead of me disappearing around a bend and reappearing on the side of the next hill and then disappearing . I would not see any of them again until I arrive in Fort Cronkite with a flat front tire hours later.
At the top of the single track I take the Coast trail (Fire road) heading south east .Here the road rolls up and down til finally putting me on a long downhill run into the valley that heads towards the Golden Gate. I have to stop a couple of times to reinflate a front tire that is slowly leaking air. At Cronkite I encounter fellow riders one of whom loans me a pair of pliers to snug the valve down on the tube. As I finish putting the tire back on the wheel they ride away ,heading home, I still have a loop to do first through Battery Townsley then up the the headlands over looking the Golden Gate.
After Townsley I look out towards the Headlands and decide I have seen it before and head back towards Mill Valley , glancing at the route sheet I see almost 2000 feet of climbing between me and home, it will be a longer afternoon. The climb is long but not as steep as I have seen earlier. Arriving at the top I wonder what became of the climbing(was the route sheet incorrect at this point) the route shows 3 climbs but I can only point out 2.
The surface going back down into Tennessee valley is very loose, it looks recently plowed but I make it down easily and head for home. I had fallen a number of times on my right hip(always a slow fall) and it needed ice.
I would like to return to some of these headland trails but with an MTB ,something vintage of course
BOB FREITAS
Red Lejune Rider in MILL VALLEY, CA USA
here are some pics courtesy of the adventure corps:
http://www.adventurecorps.com/rrr/2010/show02/index.html
more from frontageroads.com:
http://www.frontageroads.com/2010/07/28/rough-riders-rally-saturday-ride/
'til next time, "Have a Nice Ride"